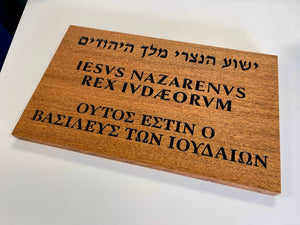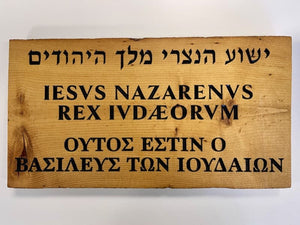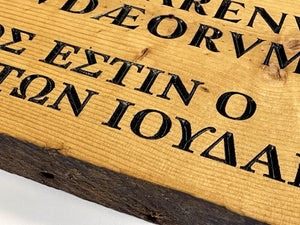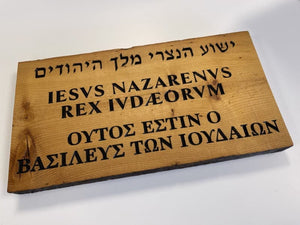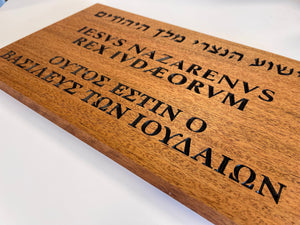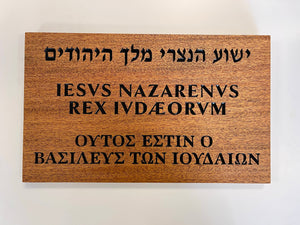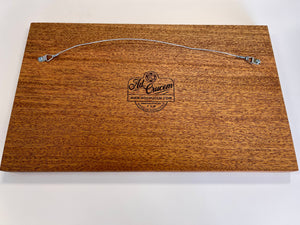 Gift Suggestions for Pastors
Ad Crucem Titulus in Wood
Lovingly crafted titulus that can be mounted with an outdoor crucifix, to adorn a worship space or your home. Carefully selected woods that are well aged and primed for outdoor exposure. Text is carved with a CNC machine in a process that takes 4 hours to complete as we work with the wood grain.

The titulus is the inscription prepared by Pontius Pilate for the crucifixion of Jesus. Pilate wrote,"Jesus of Nazareth, The King of the Jews" in three languages: Hebrew, Latin, and Greek.
This Titulus is available in two variants:
Outdoor Use Titulus
Made from well-aged reclaimed wood (currently Douglas Fir from a reclaimed barn in the Aspen, CO area. Wood availability is a problem and may result in delays or changes.)
Comes with a weather-resistant natural tung oil treatment that can be renewed every 4-5 years to maintain the product.
External mounting fixtures can be customized.
Indoor Use Titulus
Made from solid wood.
Finished with natural tung oil for a durable and long-lasting finish.
Comes with keyhole mounts to allow flush wall mounting.
Dimensions:
Outdoor titulus: approximately 17" x 10" x 1" (this is reclaimed wood and sizes vary as do finishes. Some nail holes and weathering is to be expected. The wood we prefer is well aged and seasoned Douglas Fir from reclaimed barns in Colorado).

Indoor titulus:

Small: American Cherry OR Hard Maple, approximately 12" x 6" x 0.75".
Large: African Mahogany, approximately 17" x 10" x 7/8".

"And He, bearing His cross, went out to a place called the Place of a Skull, which is called in Hebrew, Golgotha, where they crucified Him, and two others with Him, one on either side, and Jesus in the center. Now Pilate wrote a title and put it on the cross. And the writing was: 

JESUS OF NAZARETH, THE KING OF THE JEWS.

Then many of the Jews read this title, for the place where Jesus was crucified was near the city; and it was written in Hebrew, Greek, and Latin."John 19:17-20
These items are made upon ordering. Please allow 2-3 weeks for delivery.
---