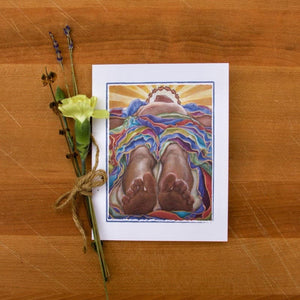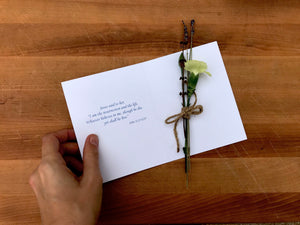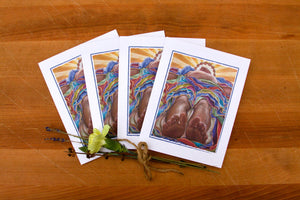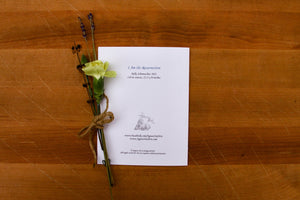 Agnus Dei - I Am the Resurrection - Set of 12 Cards
Product Information
Set of 12 Cards with Envelopes
4 ¼ inches by 5 ½ inches
White card with colored ink
Easter, Sympathy, Any occasion
Jesus said to her, "I am the resurrection and the life. Whoever believes in me, though he die, yet shall he live." John 11:25
Art Description
This painting is based on a combination of Old Testament and New Testament references. The garment our Lord is wearing is full of colors. God sent Noah a rainbow as a sign of His covenant to never destroy the earth by water again. Jacob gave Joseph a coat of colors as a gift to demonstrate his favor.
In traditional Christian iconography, the resurrected Christ waves a victory banner as He steps forth from the grave. In this interpretation, Christ wears the victory banner. His head is covered with a crown of thorns, transformed into a halo. Light beams project how Christ's suffering brought good to all mankind.
The view with which we see Jesus Christ is not the face, but the feet. His face, His full glory, is hidden from our eyes. Jesus descends into our human condition, fully embracing His humanity, with the feet as the lowest part of man.
---