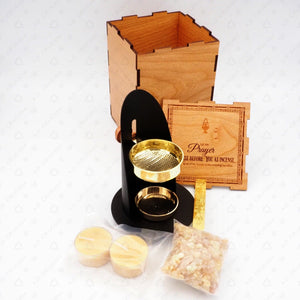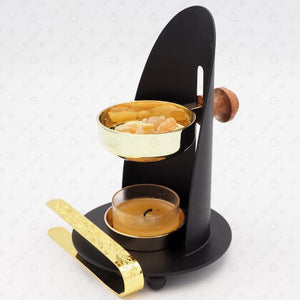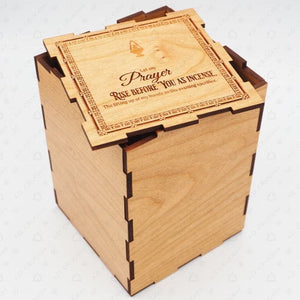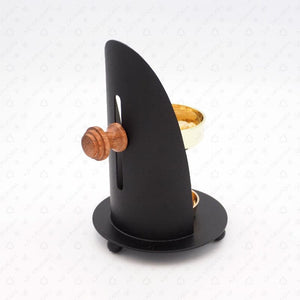 Ad Crucem Incense Burner Premium Kit - Black and Wood Finish
This premium incense kit is gorgeous and makes an excellent gift for the faithful Christian.  
Ad Crucem has crafted a solid cherry wood box (not plywood or fiberboard)  for the incense burner and filled it with the supplies you need to free the fragrance!

The kit includes beeswax tea light candles, a supply of frankincense, and tongs for handling the incense. Easy to use so light the candles and enjoy the unmistakable aroma of frankincense filling your sanctuary or home, a reminder that our prayers rise to the Lord as incense.  

There is also an option to purchase only the burner, which includes one tea light candle and a small bag of Frankincense.
The premium incense kit includes the following items:
Beautifully engraved solid cherry wood box for storage
Polished brass and painted metal incense burner 
Three beeswax candles

2 oz frankincense
Brass Tongs for lifting incense
Dimensions of Incense burner: 5.9" tall x 3.7" diameter base.
CAUTION: THE BURNER CAN BECOME VERY HOT! PLEASE HANDLE IT CAREFULLY AFTER USING IT.
---