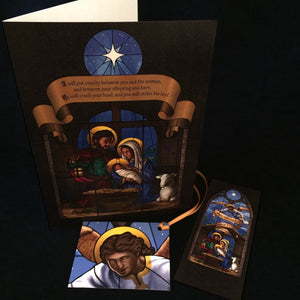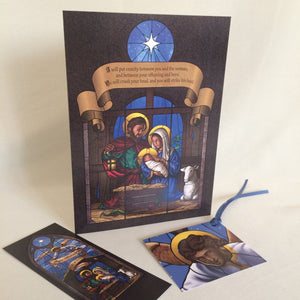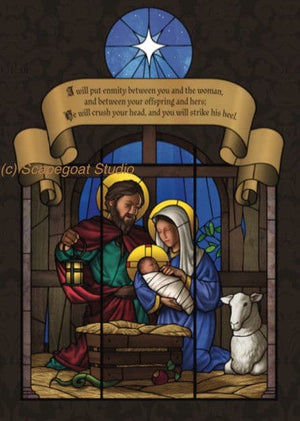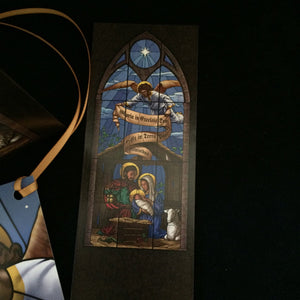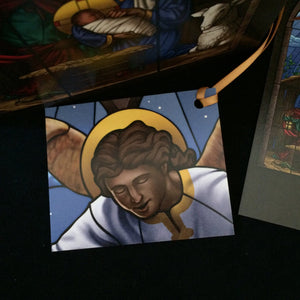 Ad Crucem Christmas Card God Most High
A beautifully designed card by Jonathan Mayer of Scapegoat Studio. The Card shows the Christ Child with His parents, and the pronouncement of the proto evangel declared by the Lord to the serpent in the Garden of Eden, "I will put enmity between you and the woman and between your offspring and hers. He will crush your head, and you will strike His heel." Genesis 3:15. Notice the symbolism of cross beams reflected about the Child, and on the lantern, the eaten fruit and the snake crawling into the manger.
The inside of the card is a stanza from Martin Luther's hymn, From Heaven Above to Earth I come:
This is the Christ
Our God Most High
Who hears your sad and bitter cry
He will Himself your Savior be,
From all your sins to set you free
Includes

:
Original design exclusive to Ad Crucem.

Cross-focused, Christ-centered scriptures that confess the one true faith.

5"x7" card printed on premium paper stock milled in upstate New York.

Printed in Denver, Colorado at a G7 & Green Certified facility.

Individual cards sold are protected with a plastic sleeve and includes:

bookmark, 

gift tag, and

envelope.

Bulk orders are not packaged individually

Conceived, designed, sourced and printed in the USA.
We can customize any order to suit your preferences, including providing a selection of different cards in various quantities. Please contact us at info@adcrucem.com or call +1 (720) 437-1104 with your requirements.
---