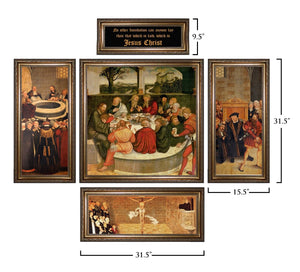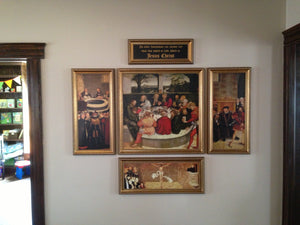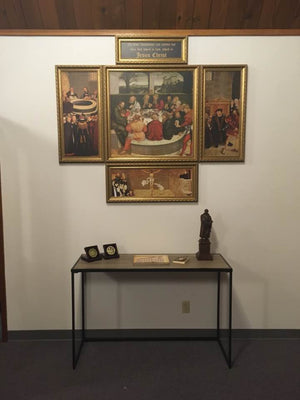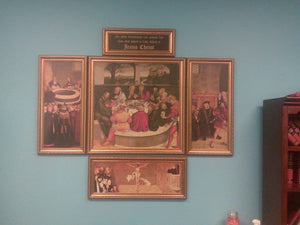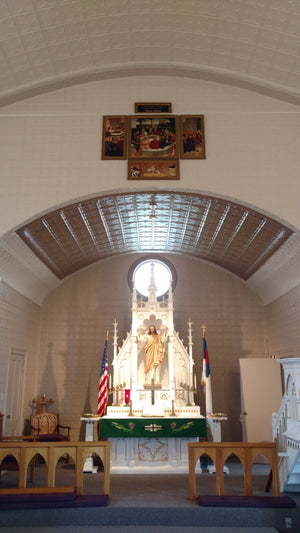 A Lutheran Reformation Altarpiece Giclee - Ornate Gold Solid Wood Frame Collection
The original of this giclee print hangs in St. Mary's Church in Wittenberg, Germany. Painted by Lucas Cranach the Elder in 1547, it shows that the Church of the Reformation bears the marks of the Church catholic, and rests on Christ alone by grace alone through faith alone.
The prints come pre-framed in a gold toned solid wood frame. 
"We absolutely love & cherish these beautiful & faithful reproductions!"
Rev. Gaven Mize
Augustana Lutheran Church
Hickory, NC
"New artwork has been received and placed in the narthex of Mt. Zion Lutheran Church, a reproduction of the Cranach altarpiece at St. Mary's Church in Wittenberg, Germany.  A wonderful memorial gift just in time for Holy Week!"
Rev. Aaron Koch
Mt. Zion Lutheran Church
Greenfield, WI
"These reproductions were a great memorial idea and adds tremendously to our Divine Services."
Rev. Adam Moline
Good Shepherd Lutheran Church
Lincoln, NE
"We purchased the Lutheran Reformation Altarpiece in celebration of the 500th
birthday of the Reformation. It adorns our entry way as a testimony to all who
enter that this congregation is a Christ centered and cross focused congregation
of the Evangelical Lutheran Church. We are unabashedly Lutheran. We eagerly
look forward to other such pieces being available for sale."
Rev. Dr. Tony Sikora
Hope Lutheran Church
DeWitt, MI
Left Panel: (12"W x 28"H x 1.5"D)
The Sacrament of Holy Baptism
Right Panel: (12"W x 28"H x 1.5"D)
The Office of the Keys and Confession
Center Panel: (28"W x 28"H x 1.5"D)
The Sacrament of the Altar
Upper Panel: (20"W x 5.5"H x 1.5"D)
"No other foundation can anyone lay than that which
is laid, which is Jesus Christ."
- 1 Corinthians 3:11 (NKJV)
Lower Panel: (28"W x 10"H x 1.5"D)
Luther preaching Christ and Him crucified
PLEASE NOTE: THIS ITEM SHIPS ONLY TO THE USA AT THIS TIME.
We offer this product in different sizes and mounting options. Please choose from the options on the drop-down menu. These items are printed upon ordering, so please allow extra time for delivery.
---