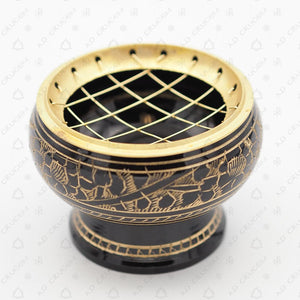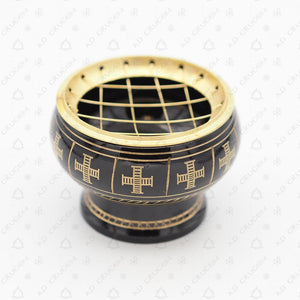 Prayer and Thanksgiving
Ad Crucem Incense Burner Mini Gift Set
The Ad Crucem mini incense kit is an excellent starter for your home altar or your church.
The charcoal tablets can be broken into smaller pieces. Set them alight, then place a small piece of incense on top of the charcoal. The aroma of frankincense reminds one of Epiphany and the visit by the Magi to the Christ Child.   
Ad Crucem's solid cherry wood engraved box reads "Let my prayers rise before you as incense, as the evening sacrifice."

The mini incense kit comes with the following items:

Solid cherry wood

Ad Crucem engraved b

ox
Brass incense burner with delicate hand etched engravings (your choice of cross or pattern)
One roll of charcoal (10 tablets)
Brass tongs for lifting incense 
1 oz frankincense
Dimensions of Incense burner: 2.5" diameter x 1.75" tall
---