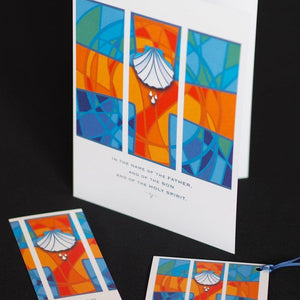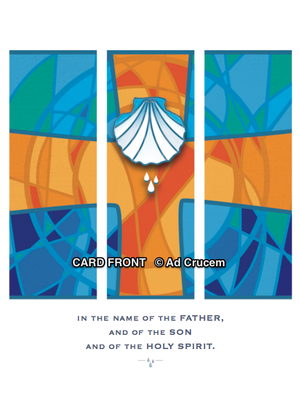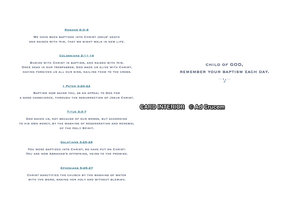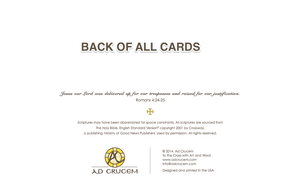 Gift Suggestions for Baptism
Ad Crucem Baptized into Christ
This Baptism card includes six important scriptures regarding baptism, and what God accomplishes for us when we are baptized. Child of God, remember your baptism each day.
The Six Scriptures are:-
Romans 6:3-6 We have been baptized into Christ's death and raised with Him that we might walk in new life.
Colossians 2:11-14 Buried with Christ in baptism and raised with Him. Once dead in our trespasses God made us alive with Christ, having forgiven all our sins, nailing them to the cross.
1 Peter 3:20-22 Baptism now saves you as an appeal to God for a good conscience, through the resurrection of Christ Jesus.
Titus 3:3-7 God saved us, not because of our works, but according to His own mercy by the washing of regeneration and renewal of the Holy Spirit.
Galatians 3:35-29 You were baptized into Christ, so have put on Christ. You are now Abraham's offspring, heirs to the promise.
Ephesians 5:25-27 Christ sanctified the church by the washing of water with the word, making her holy and without blemish.
Includes

:
Original design exclusive to Ad Crucem.

Cross-focused, Christ-centered scriptures that confess the one true faith.

5"x7" card printed on premium paper stock milled in upstate New York.

Printed in Denver, Colorado at a G7 & Green Certified facility.

Individual cards sold are protected with a plastic sleeve and includes:

bookmark,

gift tag, and

envelope.

Bulk orders are not packaged individually

Conceived, designed, sourced and printed in the USA.
We can customize any order to suit your preferences, including providing a selection of different cards in various quantities. Please contact us at info@adcrucem.com or call +1 (720) 437-1104 with your requirements.
---