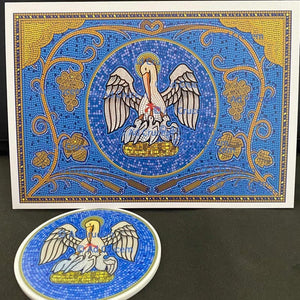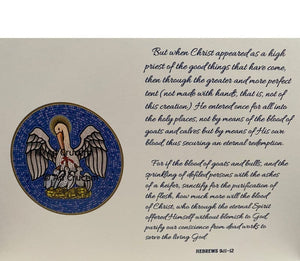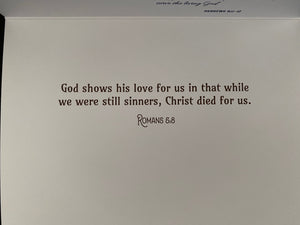 Assorted Greeting Cards
Ad Crucem Pelican in Her Piety Card
In medieval bestiaries, the Pelican was often pictured piercing her own breast to feed her chicks her own blood. The ancients believed that, in times of scarcity, a pelican would feed its own flesh to its young, in order to sustain them. The church adopted this imagery (referencing Psalm 102:6) and applied it to Christ, who nurtures and protects His people with His own Body and Blood.Ad Crucem has created this beautiful image of the pelican, and it is available as a card here, each card purchased comes with a matching sticker. We also offer the image as a poster and an ornament.  
Images shown: Front Cover of Card, Inside left, Inside Right, Back of Card. This image is copyrighted, please do not copy it. 
Original design exclusive to Ad Crucem.

Cross-focused, Christ-centered scriptures that confess the one true faith.

5"x7" card printed on premium paper stock milled in upstate New York.

Printed in Denver, Colorado at a G7 & Green Certified facility.

Individual cards sold are protected with a plastic sleeve and includes:

matching sticker

envelope.

Bulk orders are not packed individually.

Conceived, designed, sourced and printed in the USA.
We can customize any order to suit your preferences, including providing a selection of different cards in various quantities. Please contact us at info@adcrucem.com or call +1 (720) 437-1104 with your requirements.
---